Red Lake Rampage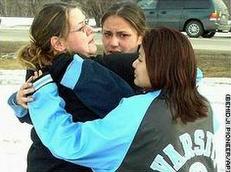 On Monday, 16-year-old Jeff Weise allegedly killed nine people and injured more than a dozen others before killing himself at Red Lake High School in Minnesota. This is the worst school shooting since the 1999 tragedy at Columbine High School in Littleton, Colorado.

Watch the video here
http://tinyurl.com/4sa9k
Read the transcript here
http://tinyurl.com/7xpjk
From CBS News [For higher level students]
http://tinyurl.com/54pfm
Cloze
Vocabulary
Word Selection/ Listening for details
Note:
To watch videos from CNN student news, you will need to sign up for a free account. You will need to type in your access account number everytime you watch a video from CNN Student News.